Apply a small amount of shampoo to wet scalp. Work into a lather and leave on scalp for 3-5 minutes. Rinse thoroughly.
Use every 3-4 days for 4 weeks to clear dandruff
To prevent dandruff coming back, use once every week or second week for 3-6 months
Ketoconazole 20mg per g, sodium lauryl ether sulphate, disodium monolauryl ether sulphosuccinate, coconut fatty acid, diethanolamide, laurdimonium hydrolysed animal collagen, macrogol 120 methyl glucose dioleate, sodium chloride, sodium hydroxide, perfume bouquet, imidurea, hydrochloric acid, erythrosine (E127) and purified water.
Provides relief to a broad range of dandruff and dandruff related scalp problems
Treats and prevents dandruff and its symptoms, such as dry, flaky, red and itchy scalp. It not only treats dandruff but targets the inflammation associated with it.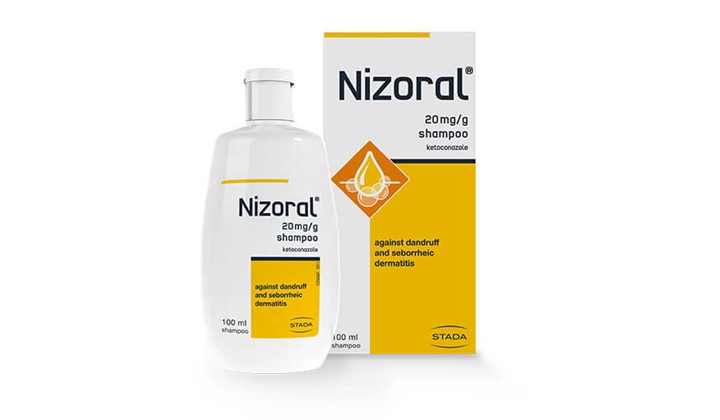 The #1 medicinal anti-dandruff hair care brand in Europe*
*IQVIA PEC Europe 2018 public prices in €


Our expert use of ketoconazole, the world's most prescribed anti-dandruff ingredient, has awarded us a
market-leading position for more than 30 years.

Nizoral® has a clinical heritage which has been trusted
by consumers for decades

Nizoral® owes its success to the fact that it targets dandruff's
root cause and not just its symptoms

Nizoral® is suitable for all hair types, from colour treated to processed or grey hair
Nizoral® - Fights the cause of dandruff
All dandruff sufferers have at some point thought of crazy ideas to relieve the suffering from an itchy scalp. Well, you won't need to vacuum your head, because there's a much better and safer solution! Nizoral, the shampoo that actively fights the cause of dandruff