Medical treatment shampoo against
persistent dandruff and seborrhoic dermatitis
Treatment:
Use every 3-4 days for 4 weeks to clear dandruff.

Prevention:
To prevent dandruff coming back, use once every week or second week for 3-6 months.
Ingredients: Ketoconazole 20mg per g, sodium lauryl ether sulphate, disodium monolauryl ether sulphosuccinate, coconut fatty acid, diethanolamide, laurdimonium hydrolysed animal collagen, macrogol 120 methyl glucose dioleate, sodium chloride, sodium hydroxide, perfume bouquet, imidurea, hydrochloric acid, erythrosine (E127) and purified water.
Frequently Asked Questions
Got a question regarding using Nizoral®? Find your answer below in our FAQ section.
How do I use Nizoral® shampoo?
The affected areas of the skin or the scalp should be washed with Nizoral® shampoo, which should be left on the skin/scalp for 3 to 5 minutes before rinsing. It should be used twice weekly for 4 weeks to treat dandruff and once every 1-2 weeks to maintain dandruff-free.
Can I use Nizoral® shampoo if I am pregant or nursing?
The topical application (on the scalp) of Nizoral® shampoo does not cause detectable levels of ketoconazole in the blood. However, as with any medicated product, pregnant or nursing women should note use Nizoral® shampoo unless recommended by their doctor.

Any precautions when taking other medications?
It is recommended to wait for about 2 weeks before treating your hair with Nizoral® shampoo.

Can Nizoral® shampoo be used on coloured hair?
Nizoral®  may cause discoloration of chemically coloured hair but this is very unusual and not typically associated with the use of Nizoral® shampoo.
Can I use other hair care products while using Nizoral® shampoo?
You don't have to stop using your favorite shampoo, conditioner, or any other haircare product. Simply include Nizoral® shampoo as part of your healthy hair regime. For best results we recommend to use in combination with Nizoral® Expert Daily Care Shampoo You'll find Nizoral® is gentle enough to work on most color-treated, chemically processed and grey hair. And, unlike tar-based shampoos, Nizoral® has a fresh, clean scent that won't clash with your favorite perfume or fragrance.
Do I need to wash my hair with a conventional shampoo directly before or after the treatment with Nizoral® ?
No. It is sufficient to use Nizoral® Replace your shampoo with Nizoral® for your hairwash twice a week. If you
like to wash your hair more often, use your favoured shampoo. One shampooing process per hairwash with Nizoral is sufficient.
Does Nizoral® work also against my itchy scalp even if have no dandruff?
Nizoral® is a medicinal shampoo to treat dandruff and seborrheic dermatitis. If dandruff and seborrheic dermatitis is not the cause of your symptoms, you should consult your dermatologist or try Nizoral® Expert Daily Care Shampoo. It is proven that it relieves from itching related to dandruff and/or dry skin. Its moisturizing properties as well as the innovative Crinipan CMP green technology help to relieve an itchy scalp.
Can children or babies use Nizoral® shampoo?
No. Nizoral® is a medicated treatment and can only be used for use for adults and adolescents from the age of 12 years.
How long can I store Nizoral®?
Nizoral® can be used 3 years after production. Do not use Nizoral® after the expiry date or after 3 years. Also do not use Nizoral®  if looks or smells differently than before.

Can Nizoral® cause allergic reactions?
Ketoconazole 2% shampoo is safe, well tolerated and cosmetically appealing. However, Nizoral® should not be used if you are allergic to Ketoconazole or any of the other ingredients of this medicinal product. Signs of hypersensitivity that may occur after using the shampoo include itching, mild burning sensation or redness in the application area. If you experience any hypersensitivity reactions, discontinue treatment and consult your physician or pharmacist.
Who benefits from Nizoral®?
Anyone who suffers from dandruff caused by a fungal infection or skin conditions such as seborrheic dermatitis and pityriasis versicolor. Sometimes dandruff can also be caused by particularly strong hormone changes and fluctuations (menopause or puberty). Nizoral® effectively combats the cause of dandruff and prevents it from reappearing. Nizoral® can be used by adults and adolescents aged 12 or above.
Show All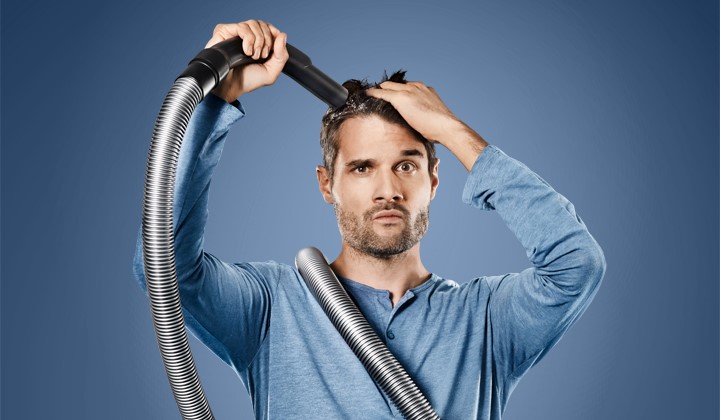 #1 medicinal product for the treatment of dandruff in Europe1
Our expert use of ketoconazole, the world's most prescribed anti-dandruff ingredient, has awarded us a market-leading position for more than 30 years.
Nizoral® has a clinical heritage which has been trusted by consumers for decades

Nizoral® owes its success to the fact that it targets dandruff's root cause and not just its symptoms

Nizoral®  is suitable for all hair types, from colour treated to processed or grey hair
¹ IQVIA MIDAS, ATC D1A3 Topical Scalp Antifungals, Volume & Value MAT, Feb. 2022
Nizoral® - Fights the cause of dandruff
All dandruff sufferers have at some point thought of crazy ideas to relieve the suffering from a flaky scalp. Well, you won't need to vacuum your head, because there's a much better and safer solution! Nizoral® the shampoo that actively fights the cause of dandruff.